This S*it Will Fcuk You Up!
Modulate, Psyclon Nine and Combichrist @ Avalon in Hollywood, CA 8/11/07
Picture and Words By Lil Pixie Donna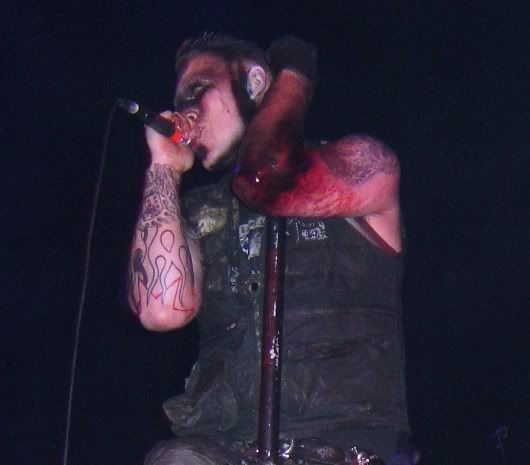 When Combichrist say, "This s*it will fcuk you up" they are not messing around. If you have just heard them on your CD or mp3 player and have not seen them live, you are definitely missing out. During their live performance, Combichrist seems to double if not triple the energy on their CDs. Well, at least the show at the Avalon far surpassed what I expected to see.
The stage presence of Andy LaPlegua (vocals), Shaun F. (keyboards), Jon H. (percussion) and Joe Letz (drums) was absolutely amazing. These four guys covered in makeup and blood practically ran on stage and kept the crowd moving through out the entire one hour and 20 minute set. No kidding, one second people were standing around socializing waiting for the band to start when all of a sudden, the lights went out and a loud pulsing energetic and aggressive electronic sound began playing. All we saw were bright flashing lights and thick fog as if it were some kind of dark EBM dance club and the crowd was completely into it. It seemed as if everyone was up, dancing and just having a good time.
Some of their highlights were "Electrohead," "Blut Royale" and "I'd Like to Thank My Buddies." Of course they chose the perfect song to end the night, "This S*it Will Fcuk You Up." I loved every second of it!
All in all, it was a great night but I cannot end this without mentioning the opening bands, Modulate and Psyclon Nine. They were a great start and just as high energy and fun to watch as Combichrist. It was a pretty good band combo, somebody must have known what they were doing when they put this tour together!

(this might be posted here http://www.therockitnews.com/ )

Don't believe me? Watch a live video here from that night...
This S*it Will Fcuk You Up
Still don't believe me? Watch them live tonight, right now! 8/14/07
live at the DNA Lounge
Current Mood:
chipper
Current Music: combichrist - today i woke up to a rain of blood